Monthly UK House Price Stats – August
Monthly UK House Price Stats – August.   The House price stats from Rightmove for August are out – Act now to move by Christmas!
Here are our main takeaways:
Nationally, new seller asking prices have fallen slightly over August (2.3%).  The regional picture here in the South West is much less stark with a reduction in new seller asking prices showing as 0.9% (one of the smallest in the country).  This is based on an average price of £302,291.  Reduced asking prices over August seems to mirror the historical trend of sellers new to the market in the peak summer holiday months pricing their properties more keenly.
Holiday Distractions and fewer buyers
This slight reduction in asking prices is likely due to the fact that the peak holiday months are often considered a time where buyers are fewer due to holiday distractions.  For those wanting to secure a quick sale, pitching the asking price at a slightly lower level may help to offset the issue of fewer buyers around.  Although, it is worth remembering that fewer buyers is not always bad news for sellers – there are still those people out there looking who have to move and they tend to be more serious and motivated to make a decision (our article here looks at this and when to sell in more detail).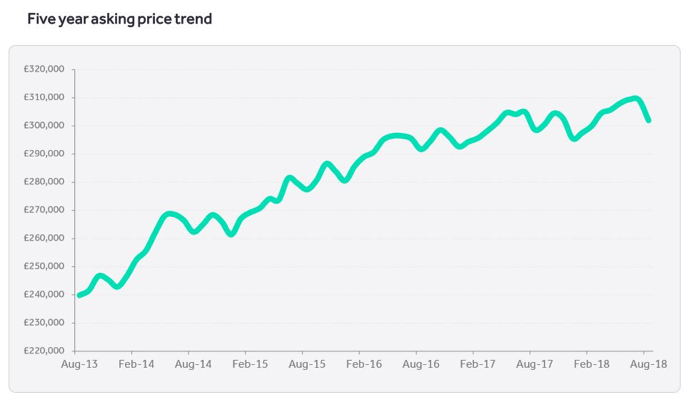 Over the course of the last 12 months, the nationwide picture shows prices having increased by 1.1% on last year with the number of sales agreed pretty much the same compared to this time last year, despite a slow start.  Miles Shipside, Rightmove director and housing market analyst commented in the latest Rightmove report "The 'beast from the east' weather was a factor in sales agreed numbers being down by 5.4% year-to-date when we reported back in May, but they are on an upward trajectory and are now 3.5% down year-to-date. Overall in spite of political uncertainty sales agreed are holding pretty steady and it is usual for there to be an upturn in prices and buyer activity as we head into the Autumn season, especially if sellers maintain their cheaper pricing to attract buyers." 
Autumn brings more buyers 
The autumn traditionally sees a return to a livelier property market with a fresh flurry of new buyers and sellers once children are back at school and holidays are over.  With just 18 weeks to go until Christmas (how did that happen?), a cut off point for many people planning to move, and the average time from agreeing a sale to moving at around 13 weeks, the advice is act now if you want to move by Christmas.   This is particularly true if you have not yet started to market your property.
Good news overall
In summary then, there is good news for the property market, especially here in the South West where we have remained insulated from the fall in house prices seen in other parts of the country.  If you are looking to sell, especially if you would like a pre-Christmas move, now is a great time to get your property on the market – contact us for more information and to book a free, no obligation valuation.  If you are looking to buy, make sure you get to know about new properties to the market and price reductions by registering with us.